---
We are in one of the most easterly and spectacularly beautiful parts of France, in the Alps right up against the Italian border. As well as resorts, the Petit St Bernard and Col de l'Iseran mountain passes are open in the summer.
The Auberge sur la Montagne is situated at La Thuile, at 1250 metres altitude just off the RD902 road between Bourg St Maurice and Val d'Isère, whilst La Croix and Marquise are at Sainte Foy Chef-lieu (village).
All our other chalets and apartments are nestled on the side of the mountain at 1550 metres altitude, close to the centre of Sainte Foy ski resort and its lifts, ski slopes, shops, bars and restaurants.
Le Belvédère is nestled on the side of the mountain at 1550 metres altitude just above Les Brévières village.
Access to Powder Ridge, Snow Ridge and Breckenridge chalets is by road from the main building that houses the apartments, garage parking, ski lockers and boot room, and then steps making it less suitable for those with reduced mobility, very young children or the elderly.
The main building is 100m from the bubble lift that gives access to the main lifts & slopes and the village shops, bars & restaurants.
Le Belvédère is 500m via the road on foot or by car from the village centre of Tignes Les Brévières.
CORONAVIRUS SAFETY MEASURES
We know that whilst many clients are very keen to book their ski trip for next season the ongoing situation may be holding them back.
We've detailed below how we have addressed many concerns relating to the current issues around Covid.
With all the uncertainty in the world right now you need to be sure that you are protected if you book a holiday with us.
This year we have added a Covid clause into our terms and conditions so you will be fully refunded in the event of resort closure or travel bans. See our terms and conditions page for further details:
https://allatski.com/terms-conditions/
All payments for equipment hire and lift passes can be refunded in full up until a week before your arrival date in resort.
You have the right to cancel either of these services, for any reason, up until this point and will receive a full refund for amounts paid.
Staff will all have access to masks. In the Auberge, and in any of our catered chalets these will be worn at all times, except when eating.
Guests will also be required to wear masks in the Auberge except when sat eating or drinking.
Masks will be worn by drivers and guests on all Allatski transport.
Vehicles will be thoroughly cleaned prior to each use.
Hand sanitiser will be available throughout all chalets and staff will be required to use this regularly while working.
We have put in place new safety protocols in accordance with government advice and will ensure all our staff are fully aware of these so you can relax and enjoy your time in the mountains.
All staff will receive Covid-specific training, with extra cleaning and disinfecting measures in every chalet.
In the Auberge the dining tables will be set up to comply with social distancing rules, possibly using the bar area as an overflow depending on the number of guests.
Breakfast service may need to be in time slots depending on the size of groups staying.
There will be enhanced cleaning checklists and written protocols to ensure nothing is missed.
Any staff member showing any symptoms will be removed from the work rota immediately and isolated until they are cleared to return.
If the chalet has a hot tub or sauna, these areas of each chalet will be cleaned regularly, as always. In the Auberge, the number of people using these areas at one time may need to be restricted depending on French Government advice at the time of the stay.
In our self-catered properties we can arrange self-check-ins if required to minimise face-to-face contact.
For our ski hire service, guests will need to book in for a fitting session in advance to avoid crossover of groups. All ski equipment will be thoroughly cleaned and sanitised after each hire.
Lifts open or lifts closed?
With the continued uncertainty surrounding the opening of ski lifts, we are offering keen mountain lovers the chance to get away for a few days and use your own fitness and leg power to explore and enjoy the mountains in a more peaceful and natural environment.
All at Ski is working with Jocelyn Cockle (Floss) from FreeFloSki and local guides and instructors to offer a flexible guided option. Each day there will be guided snowshoe walks and ski touring (Rando) sessions. One of the many benefits of staying at the Auberge Sur La Montagne is that you have the resorts of Ste Foy, Tignes, Val DI'sere, Les Arcs and La Rosiere at your fingertips and transport to these is included each day. There is so much beauty to explore and enjoy even without the ski lifts. All resorts are currently allowing snowshoe walking and ski touring
Enjoy a comfortable, flexible stay for three nights or more. A three-night stay is €550 per person, (based on 2 sharing) and will include three half or full-days guiding in either activity (minimum of two people in a group), half-board accommodation and all transfers to nearby resorts. For stays over three days you can add on the guiding as you wish or enjoy a day off. If the lifts are open you can buy a daily pass, if they are closed then you can start the skinning from the bottom of the resort (and save money!). It's not a problem if you've never tried ski touring or snow shoeing as we will give full instruction. Ski touring skis and avalanche safety kits are available for hire in-house. The sessions will be aimed at beginner and early intermediate level. A degree of fitness will be essential.
This is only available for a limited time, so don't miss out on the opportunity to enjoy the mountains in a more natural environment. To book now, or request further information drop us an email: bookings@allatski.com. For more details see: www.allatski.com  www.freefloski.com
*Dinner and breakfast may have to be served in rooms depending on the current government advice.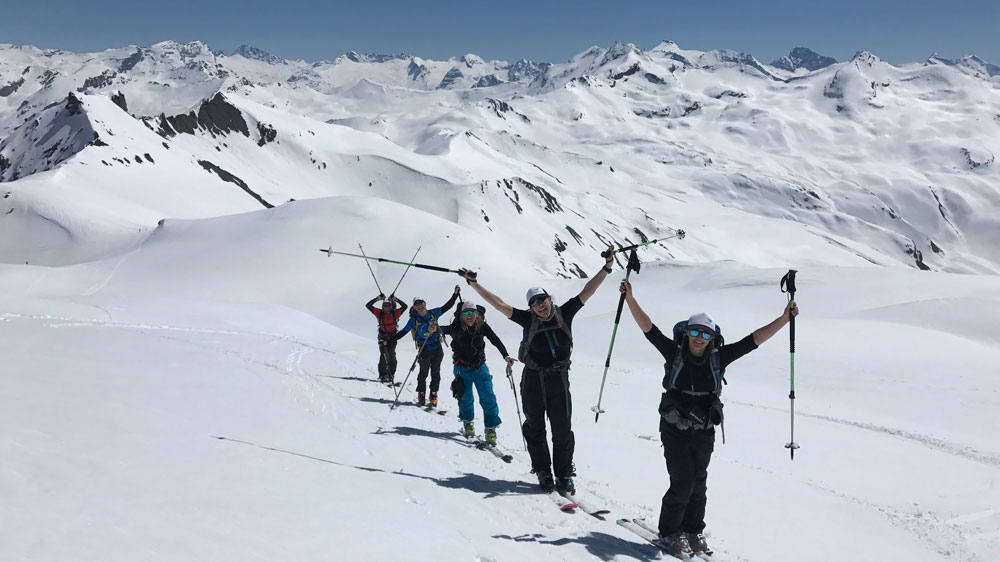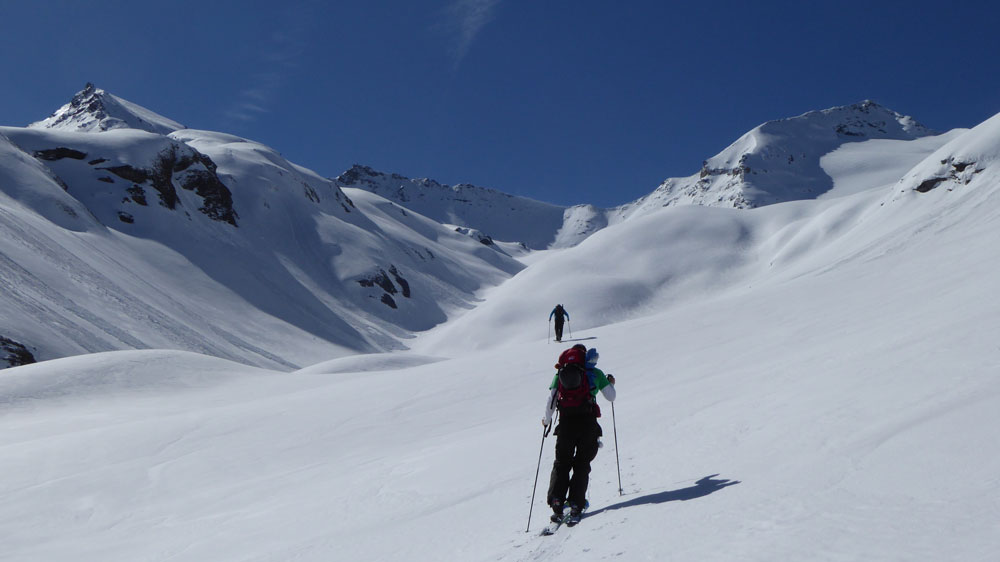 Travel & Transfers
There are plenty of travel and transfer options available so that your journey can be straightforward, stress free and reliable.
By Road
We are a steady 10 hours drive from the channel ports.
Tip: avoid the worst of the traffic by arriving in the mountains early morning or late afternoon, as the traffic is heaviest during the middle of the day.
Tip: do NOT take a route which crosses one of the mountains passes (cols) as they are all closed from November to May each year. Many sat-nav systems direct you over the Col du Petit St Bernard so take care to avoid that route.
By Train
Our nearest railway station is Bourg St Maurice, which is served by a direct Eurostar service in winter. In winter and summer you can take the regular Eurostar service to Paris, Lille or Lyon and change to a French railways train.
Details from Rail Europe or Voyages SNCF.
Tip: note that the Eurostar trains do not have sleeping berths so for overnight journeys you may prefer to change to a French sleeper train at Paris or Lille
By Air
Our nearest airports are:
Chambery – about 1½ hours drive

Grenoble – about 2 hours drive

Geneva – about 2½ hours drive

Lyon – about 2½ hours drive away

St Etienne – about 3½ drive.
These are all served by the national carriers and/or one or more of the low cost airlines. Skyscanner is a useful site for finding flights from your nearest airport.
Tip: to avoid the worst of the traffic on busy weeks aim for flights which arrive early morning or late afternoon.
Transfers
Private transfers: We have 4 minibuses and with pre-booking can collect you from the airport or rail station. We can also arrange to take you to other resorts during the week subject to demand. Ask for details.
Group transfers: we are sometimes able to offer transfers on a seat-by-seat basis on a group transfer. These are usually on Saturdays from/to Geneva. They're a more economic way of travelling for one or two people. Ask for details.
Tip: check the times of the coaches before booking your flight to avoid lengthy waits at the airport.
Car rental
You can rent a car from any of the major operators or try Rhino Car Hire, simply quote 'Auberge-Montagne' and get up to 10% discount.
Tip: Check your airline website as they often offer discounted car rental.

Tip: DO book a snow pack and ski rack

Tip: Book from the Swiss side at Geneva – although a little more expensive than the French side most of the cars have snow tyres and come with a Swiss motorway toll sticker which makes getting to and from the airport faster and easier.

Tip: Do NOT take the Mont Blanc tunnel from Geneva in winter as the Col du Petit St Bernard is closed from November to May every year.
Taxis
An expensive option but are a little cheaper when pre-booked. Try Altitude Espace.