A hand-picked selection of luxury, ski-in/ski-out and more affordable catered and self-catered chalets and apartments at Sainte Foy Tarentaise, in the heart of the French Alps.
Le Belvédère is a luxury development of ski holiday chalets and apartments, close to the slopes at Tignes Les Breviérès.
CORONAVIRUS SAFETY MEASURES
We know that whilst many clients are very keen to book their ski trip for next season the ongoing situation may be holding them back.
We've detailed below how we have addressed many concerns relating to the current issues around Covid.
With all the uncertainty in the world right now you need to be sure that you are protected if you book a holiday with us.
This year we have added a Covid clause into our terms and conditions so you will be fully refunded in the event of resort closure or travel bans. See our terms and conditions page for further details:
https://allatski.com/terms-conditions/
All payments for equipment hire and lift passes can be refunded in full up until a week before your arrival date in resort.
You have the right to cancel either of these services, for any reason, up until this point and will receive a full refund for amounts paid.
Staff will all have access to masks. In the Auberge, and in any of our catered chalets these will be worn at all times, except when eating.
Guests will also be required to wear masks in the Auberge except when sat eating or drinking.
Masks will be worn by drivers and guests on all Allatski transport.
Vehicles will be thoroughly cleaned prior to each use.
Hand sanitiser will be available throughout all chalets and staff will be required to use this regularly while working.
We have put in place new safety protocols in accordance with government advice and will ensure all our staff are fully aware of these so you can relax and enjoy your time in the mountains.
All staff will receive Covid-specific training, with extra cleaning and disinfecting measures in every chalet.
In the Auberge the dining tables will be set up to comply with social distancing rules, possibly using the bar area as an overflow depending on the number of guests.
Breakfast service may need to be in time slots depending on the size of groups staying.
There will be enhanced cleaning checklists and written protocols to ensure nothing is missed.
Any staff member showing any symptoms will be removed from the work rota immediately and isolated until they are cleared to return.
If the chalet has a hot tub or sauna, these areas of each chalet will be cleaned regularly, as always. In the Auberge, the number of people using these areas at one time may need to be restricted depending on French Government advice at the time of the stay.
In our self-catered properties we can arrange self-check-ins if required to minimise face-to-face contact.
For our ski hire service, guests will need to book in for a fitting session in advance to avoid crossover of groups. All ski equipment will be thoroughly cleaned and sanitised after each hire.
Lifts open or lifts closed?
With the continued uncertainty surrounding the opening of ski lifts, we are offering keen mountain lovers the chance to get away for a few days and use your own fitness and leg power to explore and enjoy the mountains in a more peaceful and natural environment.
All at Ski is working with Jocelyn Cockle (Floss) from FreeFloSki and local guides and instructors to offer a flexible guided option. Each day there will be guided snowshoe walks and ski touring (Rando) sessions. One of the many benefits of staying at the Auberge Sur La Montagne is that you have the resorts of Ste Foy, Tignes, Val DI'sere, Les Arcs and La Rosiere at your fingertips and transport to these is included each day. There is so much beauty to explore and enjoy even without the ski lifts. All resorts are currently allowing snowshoe walking and ski touring
Enjoy a comfortable, flexible stay for three nights or more. A three-night stay is €550 per person, (based on 2 sharing) and will include three half or full-days guiding in either activity (minimum of two people in a group), half-board accommodation and all transfers to nearby resorts. For stays over three days you can add on the guiding as you wish or enjoy a day off. If the lifts are open you can buy a daily pass, if they are closed then you can start the skinning from the bottom of the resort (and save money!). It's not a problem if you've never tried ski touring or snow shoeing as we will give full instruction. Ski touring skis and avalanche safety kits are available for hire in-house. The sessions will be aimed at beginner and early intermediate level. A degree of fitness will be essential.
This is only available for a limited time, so don't miss out on the opportunity to enjoy the mountains in a more natural environment. To book now, or request further information drop us an email: bookings@allatski.com. For more details see: www.allatski.com  www.freefloski.com
*Dinner and breakfast may have to be served in rooms depending on the current government advice.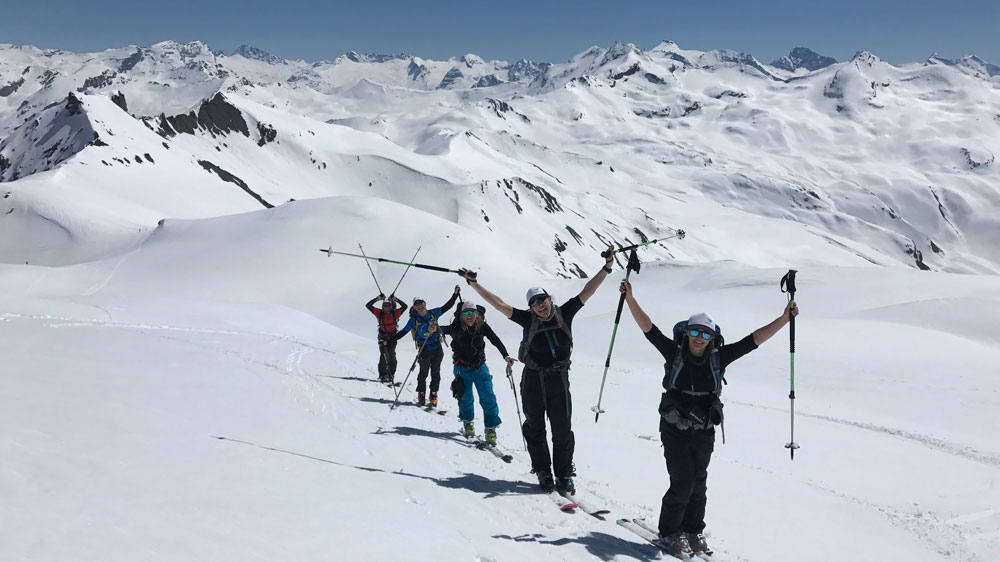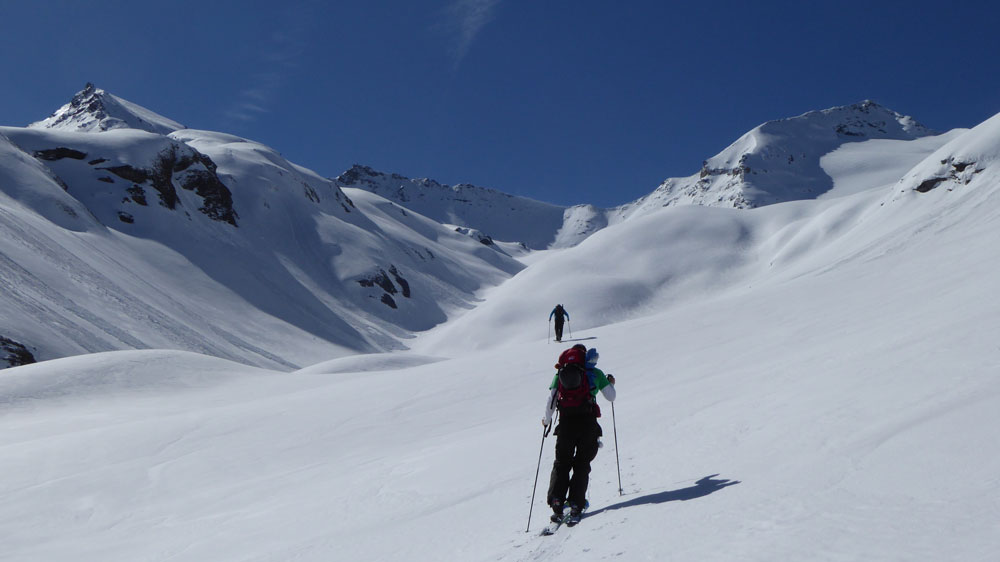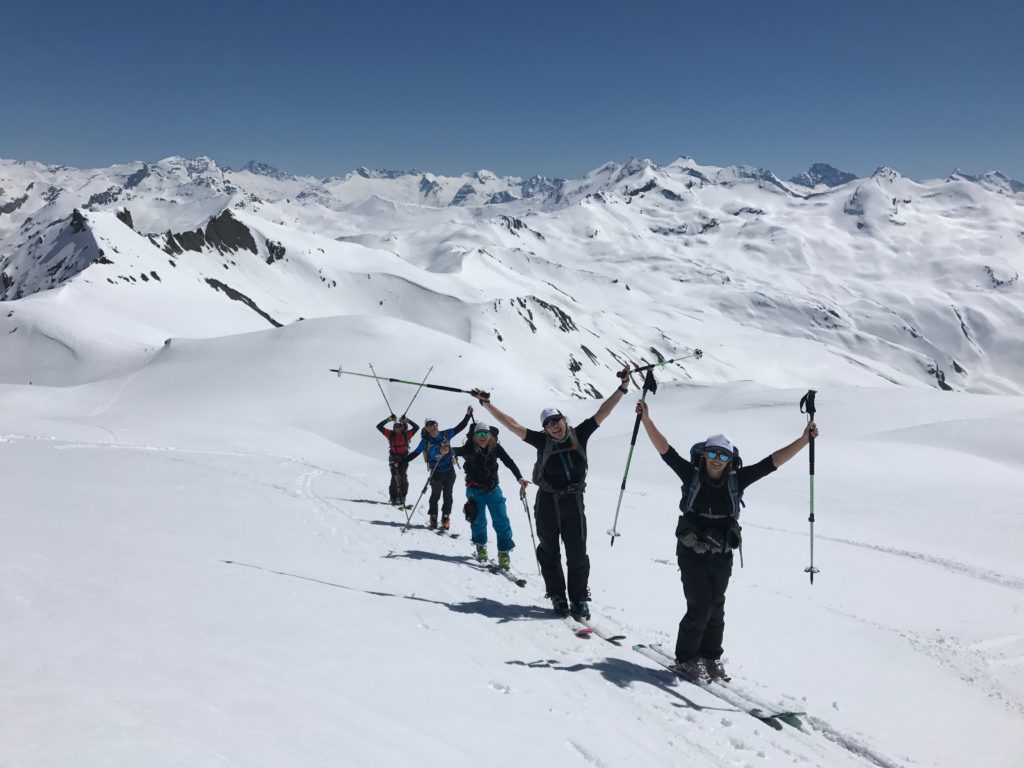 THE BACKCOUNTRY COACHING COURSE
---
New for 2020!
All at Ski, Floss Cockle and Dave Meyer are introducing our Backcountry Coaching Course, a week of Off-piste Coaching and Ski Touring skills exploring the Backcountry of the Tarentaise.
More Details...

"
The Auberge sur la Montagne is a beautiful old Savoyard building overlooking the valley. The British family who own it take a real pride in their guests' welfare.
"

"With loads of character, lots of old wooden beams, and a bust-a-gut-for-you attitude to service, this small hotel is in a …perfect location for skiing."
---
---
Our position in the middle of everywhere gives you the most fantastic choice of winter sports resorts!
The off-piste paradise of Sainte Foy is uncrowded and the powder can last untracked for days.
It's also a perfect place for children and beginners as well as for a relaxing ski holiday away from the crowds.
---
There is a huge choice of walks and hikes in the area, from scaling high mountain summits, to gentle strolls beside the river in the valley.
You'll be assured of stunning scenery wherever you choose to walk.
We have lived in the area for over 20 years and know most of the local hikes intimately. We have our favourite routes written up and mapped out on hand-outs for our guests.
---
---
---
With properties comrising of two to four bedrooms, sleeping 6 to 12 people, you're bound to find the perfect one for you.
Most of our Chalet properties are just a short walk from the lifts, bars, restaurants and shops, with magnificent views across the valley to the Aiguille Rouge and Mont Pourri mountains.
Wherever you choose to stay you'll benefit from our personal service and the experience that comes with 25 years of ensuring that our guests enjoy their holidays to the full.
---
We're in paradise for mountain bikers! Some of the best road cycling and mountain biking in the world is directly accessible from your doorstep.
We have indoor bike storage, bike cleaning equipment and detailed hand out sheets with on and off road route plans and maps.
All around us is some of the best off road bike terrain in the world. If you've come bike-less, suitable equipment can be rented locally.
---
---
NEWSLETTER
---
Sign up to our newsletter for the latest All At Ski news and offers
---